The head of a franchised dealer group has blasted Halfords' latest 'Dealer or No Dealer' campaign as "nonsense", adding that "going cheap is often a false economy".
Cycling and motoring chain Halfords has begun telling motorists they may be paying "over the odds for repairs" and they should use its services with no fear of affecting their car's manufacturer warranty.
Halfords chief executive Graham Stapleford claimed motorists who use manufacturers' franchised dealerships can pay over 50% more for repairs compared with Halfords.
It has prompted an angry outburst from a regional dealer group director, who asked not to be named. He told AM: "Yes our charges are a bit higher but our expertise is a hell of a lot higher.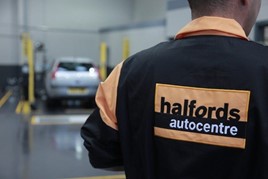 "Going cheap will often be a false economy if that unnoticed recall work and software update doesn't get done."
He said dealer groups and OEMs are very conscious that consumers are facing higher living costs, and that's why many have initiatives such as lower cost, second-line servicing for older cars, goodwill support for loyal customers and an ability to spread bill payments over several months.
"Halfords' marketing is nonsense," he said. "I don't imagine Halfords customers get to choose whether to be dropped off at the local train station for their commute or to stay in air conditioned comfort with free coffee and wifi while their car gets worked on. I'd choose that over a grubby reception area with plastic chairs every time.
"And if anything goes wrong – because none of us is perfect after all – our customers can always call or email our directors and we'll sort it."